Uganda is an angelic landlocked country located in east Africa, it is popularly known as the pearl of Africa because its beauty is incomparable characterized by plateau, numerous hills, valleys and endless savannah grass lands. The country is tucked between the boarders of Kenya to the west, democratic republic of Congo to the east, South Sudan to the north and Tanzania to the east, its diverse vegetation is well distributed among the country and are classified according to the region, it lies 900m above sea level gradually sloping gradually from south to the northern parts of Uganda. Topographically it encompasses escarpments of the Rwenzori snow caped mountain, most of its areas being covered with marshy swampy, areas and water bodies.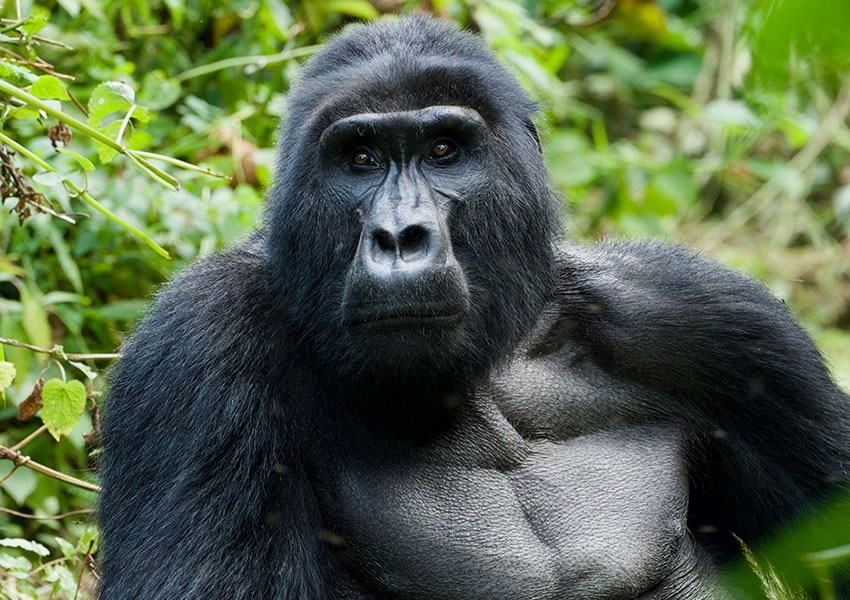 Uganda's natural composition is great it hosts a good number of wildlife cutting across the country, these include the African buffaloes, rhinos, leopards, elephants, kobs, elands, zebras, antelopes, topi, lesser and greater kudus, hippos, Nile crocodile, primates like mountain gorillas, chimpanzee, black and white colobus monkey, white cheeked monkey (l'hoest monkey), blue monkeys, red tailed monkey, all these live in 10 of Uganda's protected areas( Bwindi impenetrable national park, queen Elizabeth national park, semiliki national park, mountain Rwenzori national park, Murchison falls national park, kibale forest national park, mountain Elgon national park, lake Mburo national park and Mgahinga) presenting an opportunity to do tourism activities take place in each respective protected conservation area.
Gorilla trekking is a very popular tourism activity, a one in a life time thing to do, in Uganda takes place in two popular Ugandan destinations, Bwindi impenetrable national park and Mgahinga national park, these are home mountain gorilla (gorilla beringei beringei),the nature composition is fit for the survival of mountain gorillas, which live freely feeding on the plants of the forests like mimlopsis, fruits, and insects. The two national park were gazette as a way of protecting the critically endangered species of the mountain gorilla, they live alongside other rare animal species like giant forest hogs, mountain duikers, and birds that fill the forest with an incredible sound.
Bwindi impenetrable national park is a mountainous area in the southwestern part of Uganda divided into four sectors (rushaga, Buhoma, nkuringo and ruhija) each of which has more than one gorilla family, the national park was gazette in 1942 as a forest reserve later which was escalated to a national park by the 1992, it was recognized as a world heritage site in 1994 protecting one of the critically endangered red list species. The word impenetrable for the conservation area is due to its thickness, the forest is almost impassable with a lot of undergrowth and large trees covering the canopy it receives an approximate of 1500mm of rainfall every year its altitude lying between 1106 and 2607 lowest in the northern part of the park and very high in the south (rushaga).
Bwindi impenetrable national park contains a series of steep slopes along which are small caves that used to be habitats of the short structured people, valleys and a source of beautiful waterfalls for example in the south of rushaga on a special guided nature walk it leads to deep within the forest to "bagyenda falls" a very refreshing spot, cold oozing water fall down in between rocks. About 120 species of mammals including several primate species like the l'hoest monkey, black and white colobus monkey, baboons, there are other mammals like forest elephants, mountain duikers although they are rare to spot, besides animals, Bwindi is home to more than 300 species of birds some of which are endemic to the region like the African green broadbill.
The national park is the only place where the three great apes co-existed together including man (pygmies), these are the last group of short structured people locally known as the Batwa, they lived in the forest until they were evicted due to conservation purposes however the particular group kept their lives around the park and performing for travelers communicating culture through traditional songs, dances, making fire storytelling and many activities. The tribe leads visitors along the trail explaining the forest dwellings and how they traditionally used medicine from plats.
Bwindi impenetrable national park hosts 12 gorilla families available for gorilla tracking and 2 more are for the habituation process, the gorilla families are named according to the location which they were found, names given to the lead male silverback, each family hosts up to 20 members, the following are gorilla groups of Bwindi well distributed in each sector, Mubare gorilla(buhoma), habinyanja(buhoma), Rushegura(Buhoma), Bitukura(Ruhija), oruzugo(Ruhija), Nkuringo gorilla family(Nkuringo), Nshongi(Rushaga),mishaya(Rushaga),Kahungye(Rushaga), Bweza(Rushaga), busingye(Rushaga).
Mghaninga national park is one of the smallest but incredible conservation areas in the south western part of Uganda covering an area space of 33.7 square kilometers, it was gazette in 1991 after being declared a game sanctuary to protect mountain gorillas that keep roaming in the region, attracting many tourists that have come on gorilla safari making it one of the leading destinations, the park is a thick green forest with a variety of tree species having a diverse food web for the brown eyed mammal species to feed on, one of the reasons why they keep crossing borders.The national park is an extension of the great eight series of the great Virunga volcanoes formed as a result of volcanicity. Mgahinga is home to the Nyakagezi gorilla family and golden monkeys. The gorilla family is the only habituated group composed of 9 members, these are also famous for moving to Congo or Rwanda.However, the family is one of the easiest to track as it prefers a narrow feeding, doing a lot of nesting and relaxation.
Mountain gorillas is among the two sub species of the eastern gorilla, it is a critically endangered species listed under the IUCN red list, the primates are close to human DNA normally headed by the silverback (mature male), it is a gentle species considered to be very intelligent, ability to use tools like any other ape, communicating using vocal sounds. They are one of the strongest primates on average the weigh up to 180 pounds, they don't live in captivity and while in the wild it takes over 40 years of life span,the habituated gorilla families allow visitors to trek, it involves hard work as there is a move through thick roots and plant. Mountain gorillas live in high thick areas, separated into two sub species, the factual fact is that they have thicker fur compared to any other great ape, it is larger and one of the strongest earth living apes, with muscular arms, broad chest and legs, mountain gorillas live up to 50 years of age, the female gorilla gives birth when she turns 10, and the infants become more mature and independent at a young age of three, silverbacks leads the group looking out for better food trails and also seriously protects its circle,  the gorillas solve their conflicts through fights the wining team takes up the territory. Majority of male baby gorillas leave their families at the age of 11years and to find their sole families to lead.
The great apes feed on about 18 kilograms of vegetables, because they are herbivores in nature and rarely drink because the vegetation they feed on is succulent and full of water imagine a plant like mimlopsis, besides they feed on roots, fruits and occasionally insects,
Gorilla trekking and habituation takes place beginning from 8:00am for 2 or more hours depending on how far these groups move, trekking isn't as simple and therefore one might need to be prepared physically for fitness as it involves moving up hill and down as you look out for mountain gorillas, visitor centers brief you before going to do the mountain gorilla trekking , below are the rules and regulations put in place by the Uganda wildlife authority in order to see the betterment of the endangered species protecting both parties.
Trekking is done in groups of eight per gorilla family per day, anyone can perform in the exercise as long as they are above the age of 15 years, it is advisable to keep a distance of 10  meter away from the gorillas, the animals may not respect the rules but its responsible to stay as far away from them as possible,  smoking is not allowed and kindly avoid liter in the park premises or eating while near the gorilla, flash photography is not allowed, there are situations where the mountain gorillas become very furious, please don't be scared for you have the game ranger to protect you from anything that may come up. You are allowed 1 hour with the primates, If you have caught a cold or flu you are not permitted to meet the gorillas because they catch disease just like humans, due to the Covidtravelers will are advised to wear face masks and hand gloves to the park, and breaks shall be taken along the way to ease breathing, tracking is led by a Uganda wildlife game ranger who will take you through the national park, there a porter around at the briefing center if you will a need to hire one they are available, tracking id for everybody in fact if you fail to walk within the park area or fail to reach there is always and African helicopter to reach you the majestic kind and gentle species.
Note: what to bring for your gorilla trekking experience, wear long sleeved shirts and blouses, water prof boots, hand gloves, face masks, insect repellants, water prof covers for phones and camera, rain gears, binoculars, and any other items of personal nature.
Gorilla trekking permits go for 700USD in Uganda and due to popularity and demand, it is advisable to buy these permits prior to the tracking time to avoid missing out and proper preparations. Gorilla tracking can be done all throughout the year but best during the dry seasons between December to February and June to August.
There are available accommodation facilities within each sector of Bwindi impenetrable national park and Mgahinga ranging from luxury to the best budget, example facilities for accommodation include, Buhoma lodge, Ruhija gorilla lodge, Ichumbi gorilla lodge, lake Mulehe gorilla lodge, Rushaga gorilla camp, chameleon hill lodge, lake Mutanda gorilla lodge, Bachiga lodge Ruhija, gorilla safari lodge, Nkuringo gorilla lodge, Ruhija gorilla mist amp, silverback gorilla lodge, Buhoma community camp, among many others these are booked depending on the location one is tracking mountain gorillas. Accommodation at Mgahinga national park can be around Kisoro town and around the park area for example, the mount Gahinga lodge, Travelers rest hotel, Amajembere lwacu camp, Kisoro tourist hotel.
Besides mountain gorilla tracking, there are several tourism activities that can be done on a Ugandan primate safari like chimpanzee tracking, wildlife game drives, mountain climbing, guided nature walks, biking, quad biking, horseback riding, Golden monkey trekking, birding safaris among other activities.
Uganda receives a warm tropical climate temperatures raising from 25 to 29 degrees celicious, apart from the northern Uganda, the country receives rainfall between 1,000mm -15000mm annually the best time for wildlife and animal viewing is during the dry seasons.  Gorilla tracking in Uganda experience starts right from Entebbe to the destination, Bwindi or Mgahinga national parks are both only accessible by air or by road transport, gorilla safaris can be combined by other Ugandan savannah and primate parks handpicked routes that connect up to the main destination for the major activity.
Bwindi impenetrable national park is approximately 540km for Entebbe, driving for 9 hours from the arrival time passing through beautiful rolling hills, angelic banana and tea plantations. When using the charter flight, it takes 1hour and 10minutes flight to Kisoro airstrip, after which you will drive to any sector your permit has been booked for tracking, these charter flights are organized at Entebbe or Kajansi, Mgahinga national park is a few kilometers away from Kisoro town, approximately 510 km from the Kampala. Besides Bwindi impenetrable national park and Mgahinga national park, Mountain gorillas exist in volcanoes national park Rwanda.