East African landlocked nation of Uganda is recognised as the "Pearl of Africa" for its unparalleled beauty, which is characterised by a plateau, various hills, valleys, and infinite savannah grasslands. The nation is sandwiched between the borders of Kenya to the west, the Democratic Republic of the Congo to the east, South Sudan to the north, and Tanzania to the east. Its varied vegetation is evenly distributed throughout the nation and is categorised by region. Uganda is located 900 metres above sea level, with its terrain gradually sloping northward from the south. Geographically, it includes the Rwenzori snow-capped mountain's escarpments, with most of its sections being covered by marshy swamps and water bodies. Gorilla Trekking in Uganda is one of the most popular tourist activities that tourists like to take part in when they visit Uganda.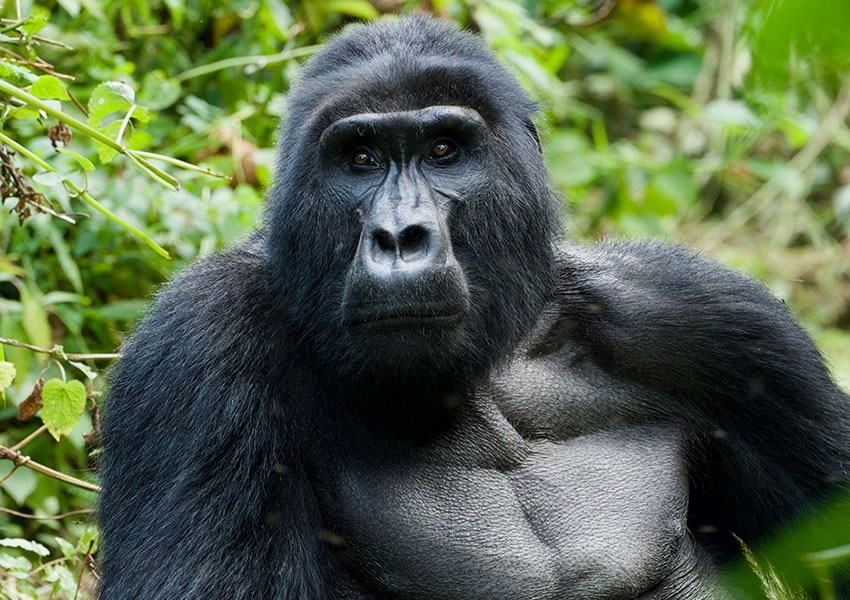 The wildlife in Uganda is abundant and can be found all over the country. These animals include African buffaloes, rhinos, leopards, elephants, kobs, elands, zebras, antelopes, topis, lesser and greater kudus, hippos, Nile crocodiles, and primates like chimpanzees and mountain gorillas as well as black and white colobus monkeys, white-chinned monkeys (also known as " All of these can be found in 10 protected areas in Uganda, including Bwindi Impenetrable National Park, Queen Elizabeth National Park, Semuliki National Park, Rwenzori Mountains National Park, Murchison Falls National Park, Kibale Forest National Park, Mountain Elgon National Park, Lake Mburo National Park, and Mgahinga Gorilla National Park. These protected areas offer the chance for tourists to engage in various tourism-related activities.
Gorilla trekking is a highly well-liked tourist attraction and an unforgettable experience. It happens in Uganda's Bwindi Impenetrable National Park and Mgahinga National Park, two well-known tourist sites. Mountain gorillas dwell in these forests in peace and are fed by mimlopsis, fruits, and insects as well as other forest flora. The severely endangered mountain gorilla species was safeguarded by the creation of the two national parks. They coexist with other endangered kinds of animals, such as big forest pigs, mountain duikers, and noisy birds.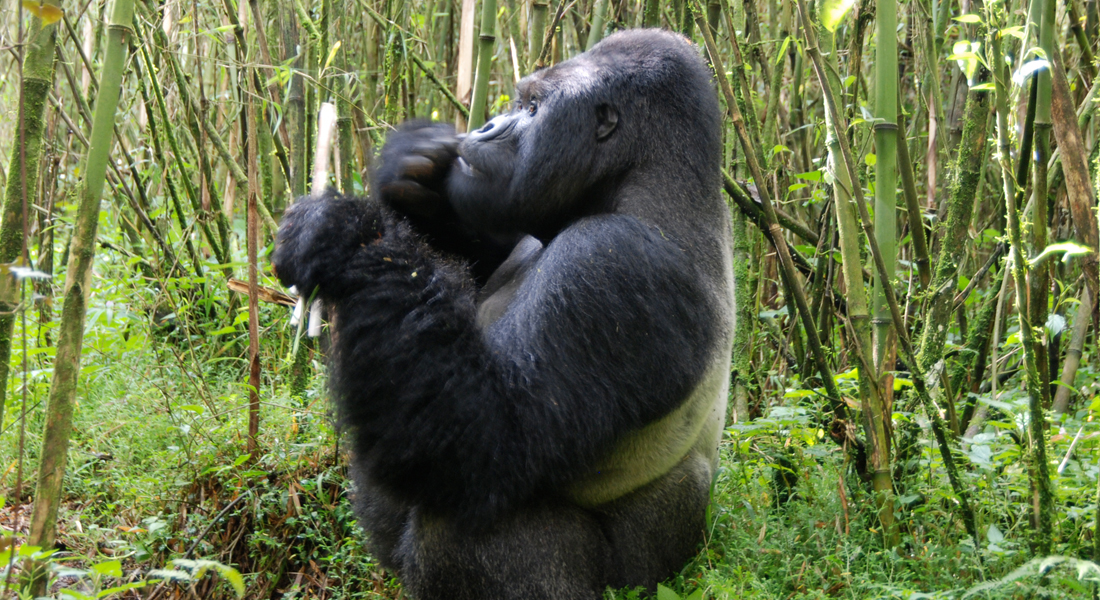 There are many gorilla families in each of the four sectors of Bwindi Impenetrable National Park, which is a hilly region in the southwest of Uganda. These sectors are Rushaga, Buhoma, Nkuringo, and Ruhija. The national park was established in 1942 as a forest reserve, and by 1992 it had been elevated to the status of national park. In 1994, it was designated a World Heritage Site for the protection of a critically endangered species from extinction. The conservation area is described as impenetrable because of its thickness. The forest is nearly inaccessible due to thick undergrowth and big trees that cover the canopy. It receives around 1500 mm of rain annually, and its altitude ranges from 1106 to 2607 feet, with the southern section of the park (rushaga) having the highest altitude.
Bwindi Impenetrable National Park is made up of high hills with valleys, stunning waterfalls, and little caves that were formerly home to people with low statures. For instance, a unique guided nature walk goes to "bagyenda falls" in the south of Rushaga, a wonderfully relaxing location where cool oozing water pours down between rocks. There are 120 different kinds of mammals, including various primate species including baboons, colobus monkeys, and l'hoest monkeys. In addition to mammals like forest elephants and mountain duikers which are uncommon to see Bwindi is also home to more than 300 kinds of birds, some of which are unique to the area like the African green broadbill.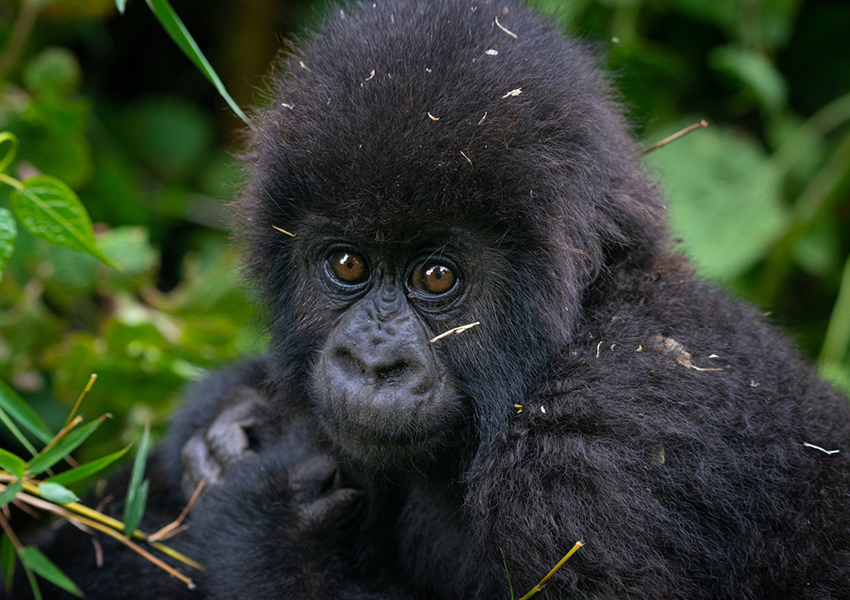 The national park is the only location where all three great apes, as well as man (pygmies), coexisted. These are the last of the short-stretched Batwa people, who were expelled from the forest for conservation reasons but who continued to live close to the park, entertaining visitors and sharing their culture through songs, dances, storytelling over an open fire, and other activities. The tribe explains the forest houses and their traditional usage of plant-based medicine as they guide tourists down the walk.
There are 12 gorilla families in Bwindi Impenetrable National Park that can be tracked, and there are two more for habituation. Each family of gorillas, which may have up to 20 individuals, is given a name based on where it was discovered. These names are given to the dominant male silverback. The gorilla groups of Bwindi include Mubare, Habinyanja, Rushegura, Bitukura, Oruzugo, Nshongi, Mishaya, Kahungye, Bweza, and Busingye, which are evenly dispersed in each area.
Mgahinga National Park, which has a surface area of 33.7 square kilometres, is one of the smallest but most remarkable conservation areas in the south-western region of Uganda. It was established in 1991 after being designated a game sanctuary to protect mountain gorillas that continue to roam the area, drawing numerous visitors who have come on gorilla safaris, making it one of the top destinations. The park is a lush green forest with a variety of tree species having a diverse food supply. The great eight series of the big Virunga volcanoes, which were generated by volcanic activity, are extended by the national park. The Nyakagezi gorilla family and golden monkeys live in Mgahinga. The gorilla family, the only habituated group with nine individuals, is well known for migrating to Rwanda or the Congo. However, because it prefers a restricted eating schedule, does a lot of nesting, and relaxes, the family is one of the simplest to watch.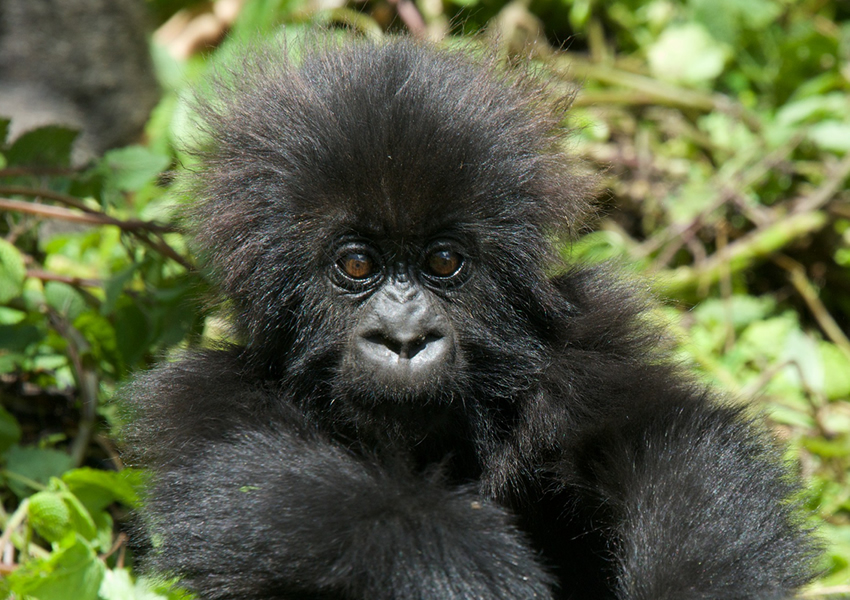 The mountain gorilla, one of the two subspecies of the eastern gorilla, is a gentle species thought to be very intelligent, with the ability to use tools like any other ape and communicate using vocal sounds. It is a gentle species that is critically endangered and is listed on the IUCN Red List. The habituated gorilla families enable tourists to walk, which requires hard labour as they pass through dense plants and roots. They are one of the strongest primates and can weigh up to 180 pounds on average. They do not survive in captivity and when in the wild, they have a lifespan of over 40 years. Mountain gorillas are one of the strongest apes on earth, with muscular arms, a broad chest, and legs. They can live up to 50 years old. The female gives birth when she is 10 years old, and the young gorillas become more mature and independent at the age of three. Mountain gorillas are divided into two subspecies. They are found in high, dense areas. The silverbacks are in charge of protecting the group's circle and keeping an eye out for better food paths. The gorillas settle disputes by fighting, and the team that wins seizes the territory. At the age of 11 years, the majority of new-born male gorillas leave their families and establish their own families.
Because they are herbivores by nature and seldom drink because the flora they consume is succulent and full of water, think of a plant like mimlopsis. In addition, they eat roots, fruits, and occasionally insects.
Gorilla habituation and trekking begin at 8:00 am and last for two or more hours, depending on how far the groups travel. Because trekking isn't easy and involves moving up and down hills while searching for mountain gorillas, visitor centres give you a briefing before you embark on the activity. The following rules and regulations have been established by the Uganda Wildlife Authority in order to protect the gorillas.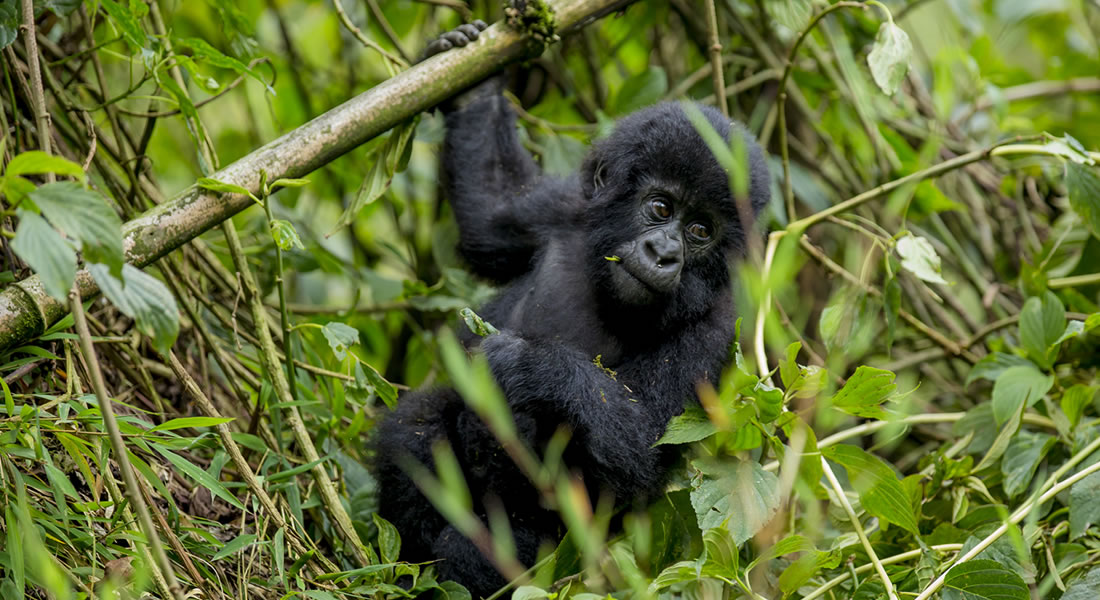 Trekking is done in groups of eight per gorilla family per day; anyone over the age of 15 can participate; it is recommended to maintain a distance of 10 metres from the gorillas; the animals may not respect the rules, but it is responsible to stay as far away from them as possible; smoking is prohibited; kindly avoid littering in the park grounds; and flash photography is not permitted. Please don't be afraid since the game ranger is there to protect you from any potential danger. There are times when mountain gorillas become quite enraged. Since gorillas are susceptible to disease just like humans, you are only allowed to spend an hour with them. Tracking is overseen by a Uganda wildlife game ranger who will lead you through the national park. If you need to hire a porter, they are available at the briefing centre. Tracking is for everyone, and if you get lost while walking through the park or don't arrive, there is always an African he will find you.
Note: things to pack for an adventure with gorillas, Dress in long sleeved shirts and blouses, water-resistant boots, hand gloves, face masks, insect repellents, water-resistant phone and camera covers, rain gear, binoculars, and any other personal accessories.
In Uganda, gorilla trekking licences cost 700USD, and owing to popularity and demand, it is advised to get these permits ahead of the tracking time to ensure appropriate planning and not miss out. Although gorilla tracking is possible year-round, the optimal times are between December and February and June and August when the weather is dry.
Within each sector of Bwindi Impenetrable National Park and Mgahinga, lodging options are available, ranging from luxurious to the best value. A few examples of lodging options are Buhoma Lodge, Ruhija Gorilla Lodge, Ichumbi Gorilla Lodge, lake Mulehe Gorilla Lodge, Rushaga Gorilla Camp, Chameleon Hill Lodge, lake Mutanda Gorilla Lodge, Bachiga Lodge Ruhija, gorilla safari lodge, Nkuringo Gorilla Lodge, Ru The Mount Gahinga Lodge, Travellers Rest Hotel, Amajembere lwacu Camp, and Kisoro Tourist Hotel are a few examples of places to stay near Kisoro town and the park.
A Ugandan primate safari can include, in addition to mountain gorilla tracking, chimpanzee tracking, wildlife game drives, mountain climbing, guided nature walks, biking, quad biking, horseback riding, Golden monkey trekking, and birding safaris.
With the exception of the north of the nation, Uganda has a warm tropical climate, with average yearly temperatures rising to 25 to 29 degrees Celsius. The greatest times to see wildlife and other animals are during the dry seasons. Gorilla safaris in Uganda can be combined with other hand-picked routes through the country's savannah and primate parks that connect up to the main destination for the main activity. Bwindi or Mgahinga National Parks are both only accessible by air or by road transportation.
Bwindi Impenetrable National Park is around 540 kilometres from Entebbe, a 9-hour drive through gorgeous undulating hills, heavenly banana and tea farms. Mgahinga National Park is a few kilometres from Kisoro town, about 510 kilometres from Kampala, and is accessible by charter flight, which takes one hour and ten minutes to reach Kisoro airstrip. From there, you can drive to any sector where your permit has been reserved for tracking. Mountain gorillas may also be found in Rwanda's Volcanoes National Park, in addition to Bwindi Impenetrable and Mgahinga National Parks.