Gorilla Trekking in Volcanoes National Park is one of the most memorable Rwanda Safari experiences. This 3 Days Gorilla Tracking Safari Rwanda tour takes you right in the heart of Volcanoes National Park where there are 10 Mountain Gorilla groups habituated for tourism. Parc National des Volcans is well known for its spectacular views of the undulating volcanoes of Mount Karisimbi, Bisoke, Sabyinyo, Gahinga and Muhabura. Contact us today to book this 3 Days Gorilla Tracking Safari Rwanda tour.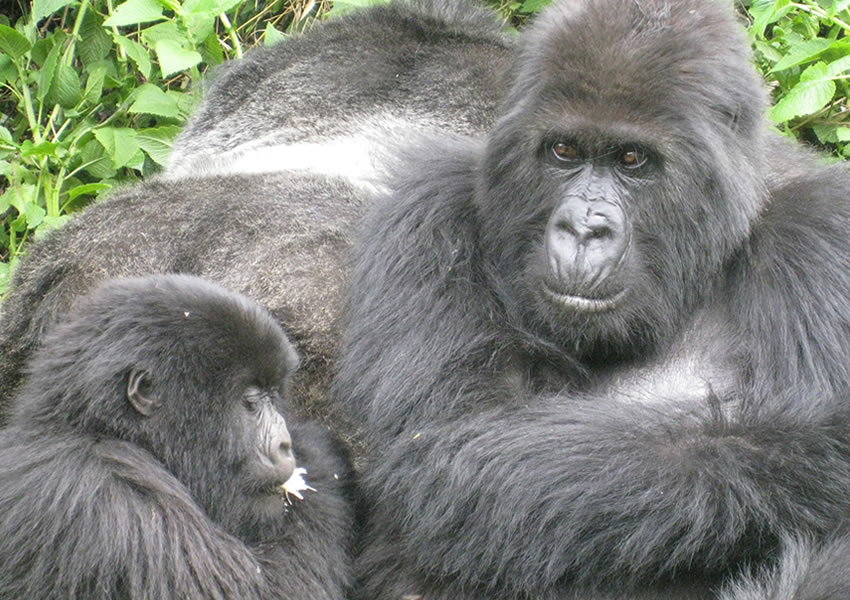 Detailed Itinerary
Day 1: Kigali City Tour – Transfer to Musanze/ Ruhengeri
You will have an early morning breakfast and meet up with our driver/guide at your hotel who will brief you on the entire 3 Days Gorilla Tracking Safari Rwanda tour and then take you on a tour of Kigali, Rwanda's Capital City. Kigali City is the main administrative and economic centre of Rwanda and is surrounded by lush hills of green. It is the cleanest city in the region. On the tour, you will have the opportunity to visit an artisan shopping centre to view and purchase local arts and crafts, visit the Kigali Museum and learn the history of Kigali's and Rwanda's pre-colonial and colonial period as well as the colonial masters in Rwanda, tour around the city and see first hand the post-genocide development and expansion of Kigali and visit the 1994 Gisozi Genocide Memorial site.
You will then continue on to Musanze / Ruhengeri through the magnificent, hilly countryside which gives Rwanda its stature as "the Land of a Thousand Hills" and check into your hotel for dinner and overnight stay. Meal Plan: (Breakfast, Lunch, Supper).
Day 2: Gorilla Trekking in Volcanoes National Park
After your early morning breakfast, you will be transferred to the park offices for pre-trek briefing for all guests. Following your trek, you will visit Iby'Iwacu Cultural Village, based in the community bordering Volcanoes National Park. At the village, you will have a wonderful interactive experience, learning all about Rwandan traditions, culture, song and dance. You will also have the opportunity to sample local food and banana beer and visit a local household or school. As well, you can choose to visit some of the local community projects and co-operatives to see firsthand, how your travel with us contributes to making a difference in people's lives.
On the drive back to your hotel, depending on available time you may visit Ruhengeri Market, providing you with an opportunity to see and buy local Rwandan fabrics, foods, handicrafts etc, visit the twin lakes, Lake Burera and Lake Ruhondo and marvel at the views of the Virunga Mountain chain. Meal Plan: (Breakfast, Lunch, Supper).
Day 3: Urwibutso Ecotourism Project  – Transfer to Kigali
Halfway back to Kigali, you will make a stopover in Nyirangarama for lunch and then tour the Urwibutso Ecotourism Project. The Urwibutso Enterprise supports local farmers and contributes to social and economic development in the area, providing schools and education, creating jobs and opportunities, particularly for women, and training for farmers. This has made the community of Rulindo District one of the most self-sustainable communities in Rwanda and a role-model to others. You will then proceed to the airport, or hotel in Kigali. Meal Plan: (Breakfast, Lunch, Supper).
End of the 3 Days Gorilla Tracking Safari Rwanda.
The 3 Days Gorilla Tracking Safari Rwanda Includes;
Park Entrance fees.
1 Gorilla Permit per person.
Bottled water.
Professional Driver/guide.
Hotel pickup and drop-off.
However, the 3 Days Gorilla Tracking Safari Rwanda excludes expenses of personal nature like; tobacco, telephone, drinks, laundry, personal insurance, Visa, tips to guides, any other items not mentioned in the itinerary.
NOTE:
This itinerary can be changed upon request to best suit your preferred tourist destinations and accommodation options. Prices will be provided upon request. ENQUIRE NOW.