Bwindi Impenetrable National Park is one of the few conservation areas in the world to find mountain gorillas. It hosts half population of the world's remaining species. Our 6 Days Best of Bwindi Gorilla Tour is top selling it cuts across most Ugandan parks including Kibale Forest National Park, Queen Elizabeth National Park along the floor of the Albertine rift valley through to Bwindi Impenetrable National Park.
The park is a habitat for other animal species like the black and white colobus monkey, White cheeked monkey, forest elephants, mountain duikers some of these are rare to see, and over 300 bird species some of which are endemic to the destination for example the African green broadbill, in the Ruhija sector Bwindi. The mountain gorilla is a herbivorous and very gentle known to be intelligent and with ability to use tools, they are sighted collecting aunts using sticks.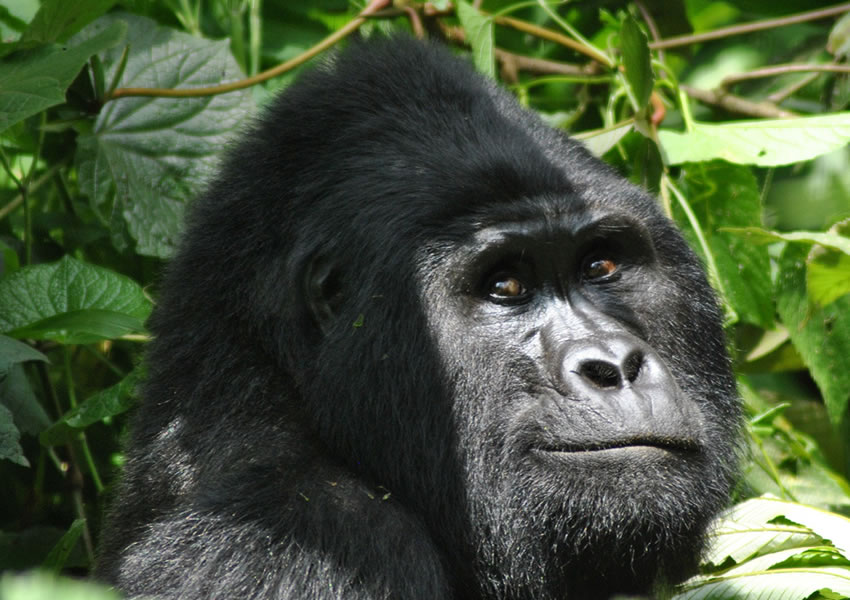 Itinerary overview
Day 1: Arrival at Entebbe airport
Day 2: Transfer to Kibale forest national park
Day 3: chimpanzee tracking
Day 4: drive to Queen Elizabeth national park -Bwindi impenetrable
Day 5: Gorilla tracking
Day 6:Departure to Entebbe
Detailed itinerary
Day 1: Arrival at Entebbe International Airport
Upon arrival, you will be welcomed, meet greet and transfer to the hotel that has been booked for your diner and stay overnight, take your time to relax and enough rest as we have along fun trip to have the following day
Accommodation at Lake heights hotel
Day 2: Transfer to Kibale Forest National Park
Early breakfast and transfer to Kibale Forest National Park, the conservation area has got the largest forest cover in Kabarole district, it is home to the chimpanzee primates that are 98% human resemblance, olive baboons, black and white colobus monkey, blue monkeys, red tailed monkey among the 13primate resident species, arriving for lunch and afternoon guided nature walk through the Bigodi swamp.
Dinner at
Luxury: Primate lodge
Day 3: Chimpanzee Tracking – Transfer to Bwindi Impenetrable National Park
Following a morning breakfast, we go to the park center Kayanchu for chimpanzee tracking, it takes 2-3hours doing the tracking it might be Tiring but rewarding when you finally meet these half human species, they are entertaining jumping up and down trees, cooing at each other, you will have a chance to see other primates in the national park, the tracking is headed by a game ranger. Returning to the lodge for lunch or packed lunch and transfer to Bwindi impenetrable national park, passing through the floor of the great Albertine rift valley south of Queen Elizabeth national park, in the Ishasha sector, lookout for tree climbing lions arriving in the late evening for a stay overnight at
Accommodation
Luxury: Chameleon Hill lodge
Day 4: Gorilla Tracking
We will wake-up to a morning breakfast and drive to the visitor center for briefing to do the gorilla trekking, it is done in groups of eight led by a Uganda wildlife game ranger, tracking takes 2or more hours depending on how far the gorilla families have moved, they keep shifting from place to place for food, the gentle species will entertain and welcome you to the jungle.  Returning to give lodge for lunch and an afternoon performance by the batwa's tribe, they are the last remaining group of the short structured people in Uganda performing their cultural dances, norms and tribes.
Luxury: Chameleon Hill lodge
Day 5: Transfer to Lake Bunyonyi
Following a morning breakfast, we will transfer to the land of a thousand islands, for relaxation of the trip, arriving for an island tour and boat ride, lunch and evening sundowners or have a one moment with nature as you feel the nature breeze and songs from birds while at the lodge
Accommodation
Luxury: Birds nest
Day 6: Departure and Transfer to Kampala
We will have a morning breakfast and transfer to Entebbe or Kampala stopping over at the equator for a picture moment and food then proceed as we say goodbye to the pearl of Africa.
End of the 6 Days Best of Bwindi Gorilla Tour.
The 6 Days Best of Bwindi Gorilla Tour includes;
1 Gorilla permit per person.
Chimpanzee permit.
4×4 wheel car drive.
Bottled Water for high land areas.
Park entrance fees.
All ground transportation.
Meals as stipulated in the itinerary.
Excludes.
Meals and drinks not indicated in the itinerary.
Visa and air tickets.
Health insurance.
Gratitude and tips given to hotel staff, drivers and other service providers.