Uganda is a landlocked country in east Africa, popular destination for primates, the angelic state ranks among top 10 very biodiverse economies blessed with beautiful flora and fauna, it is well known as the pearl of Africa due to its nature composition, about 25% of land is covered with forest and green vegetative savannah cover presenting an opportunity for primates to have habitats, there are habituated chimpanzee for visitors to track in Kibale forest national park, Kalinzu forest, Kyambura gorge, Budongo forest and in the Semiliki valley, Uganda hosting more than 5000 individuals of chimpanzee.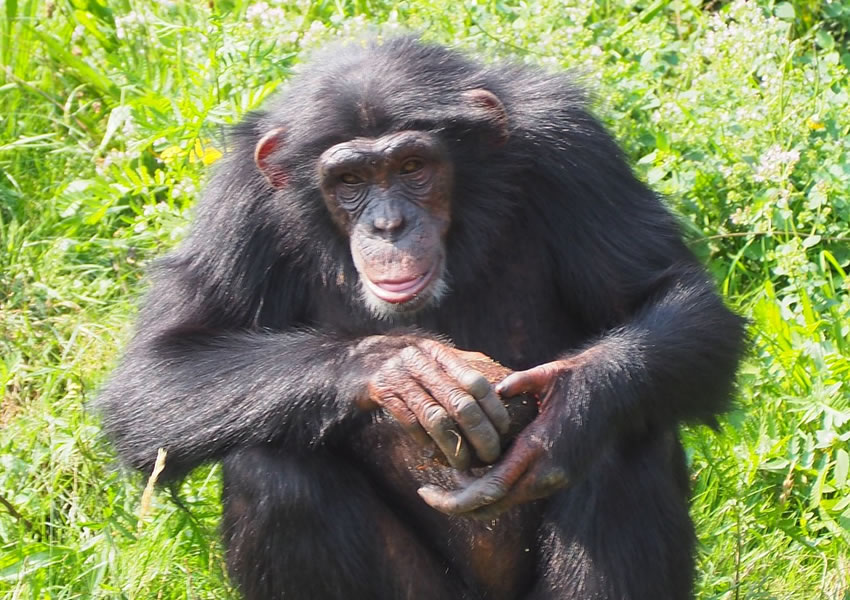 About the chimpanzee, chimpanzee is a special primate species sharing up to 98% of the human DNA, implying that they are much more related to humans biologically compared to any other species, they are very intelligent with the ability to learn words and use tools on some incidences for example collecting insects using sticks, the furred apes can survive in captivity!, chimpanzee live up to 50 years of age, nesting for places to live, the feed on most times the forest fruits, hunt for moneys, leaves and roots. They groom each other for community survival and are led by a male Alpha, a fully matured developed chimpanzee is for a fact stronger than three strong muscular humans, female chimpanzees are relatively much shorter compared to the male and weigh less pounds, the chimpanzees are highly social and live in large groups of up to 200 members per chimpanzee troop. Chimpanzee in Uganda easily adopt to the conditions of environment within which they are and most places with these habituated troops allow visitors one hour of enjoyment with the chimpanzee.
Kibale forest national park is a prime destination for chimpanzee tracking, it hosts more than 1500 individuals of the chimpanzee, 13 primate kinds call this home including the blue monkey, black and white colobus monkey, red-tailed monkey, white cheeked monkey, vervet monkey, olive baboon among others the national park is located in the western part of Uganda, the conservation area was gazette in 1932 and declared a national park area by the 1993, in order to protect the many tree, plant and animal species present in the conservation area. The forest is the largest cover in Kabarole district forming a continuous corridor with queen Elizabeth national park animal corridor south of the conservation area, the Ishasha sector.
Kibale forest national park is one of the places with a high density of chimpanzees, there are high chances of spotting it here compared to any other place with chimpanzee, it begins at the Kanyanchu visitor center early morning by 8:00am, tracking is done in two sessions morning and afternoon hours, if there is a special arrangement then it is always done by the mid-morning.The Uganda wildlife authority(UWA) ranger guide begins the tracking with a briefing on how the day's activity will be conducted chimpanzee have been tracked here at the Kanyanchu since 1993 and the results for the habituated families have been perfect. The primate walk will expose chimpanzee in their natural habitats as they climb up and down from trees unlike mountain gorillas, chimpanzees are more playful and entertaining.
Upon reaching the visitor center, registration is carried out, and tracking goes for 2 or more hours, it is great experience one shouldn't miss out, along the walk you will have a chance to look out for other primates including the black and white colobus monkey, red-tailed monkey, L'hoest monkey, grey checked mangabey, olive baboon, on a lucky day you might see forest animals like elephants, giant forest hogs, although they are rarely seen.
Chimpanzee habituation is done on full day basis, a process to enable them socialize and have the ability to be around humans, it enables visitors to accompany researchers and habituators into the forest, it involves less habituated chimpanzee and this is the reason for the activity visitors can watch chimpanzees get down their nests, breast feed, socialize, and perform tasks. There are two chimpanzee troops being habituated in the national park which are less used to human presence, the habituation process performers will take longer hours in the forest compared to the tracking time.
It is advisable to book both activities in time to avoid missing out chimpanzee permit in Uganda goes for 200USD for foreign nonresidents, and the habituation experience goes for 250USD.There are 36 permits issued with six groups each of which consist eight people per tracking time, the peak seasons of the park get really busy, tourist after tourist Despite Kibale forest national park being the most popular in Uganda for chimpanzee tracking activity and habituation, there are other places to see the chimpanzees as below:
The Kyambura gorge in queen Elizabeth national park, it is one of the most impressive and interesting corners of Uganda it is has been nicknamed as the 'valley of apes' hidden deep within the park area, 100 meters deep and 1 km meter across, in fact it can easily be missed out on a visit to the park, the chimpanzee here might not be as many as the ones of Kibale but at least you can find 17 chimpanzee families here all of which have been habituated,  it is a very isolated family with about 50% chances of seeing the chimpanzee, the nature walk takes place in the morning and afternoon hours in two groups of eight, you will be able to spot chimpanzee spending a wonderful hour with them, enjoy their playful nature, how they feed, climb up and down of trees. Permits to this conservation area cost 50 USD and should be booked prior to the tracking time. It takes 2-4 hours tracking the chimpanzee The vegetation of The Kyambura gorge is very adaptive and friendly for the chimpanzee, it has tall thick trees, and a rain forest which makes it a perfect place for a stay of the primates giving them the possibility of building nests and play grounds. Tracking is led by an experienced guide taking you through the most beautiful part of queen Elizabeth national park, he will not only explain the chimpanzee but also take you through the park composition.
Budongo forest chimpanzee tracking is done in the Kanio pabidi forest situated south of the Murchison falls National park, this is the largest protected and oldest conservation area of Uganda, it starts with a morning briefing at the Budongo eco-lodge, the Mahogany forest has well established forest routes and trails that make it easy to rack chimpanzee in the forest, the tracking is done for 3 hours starting in the morning, the park chimps roam closely near the Budongo Eco lodge, in the Budongo forest, visitors are given a chance to participate in the habituation process of the chimpanzees,  the best periods of the year to see chimpanzee is during the months of October and January.
Kalinzu forest is a part of queen Elizabeth national park, unique in its own way, it is home to quite a good number of plant and animal species, it hosts 300 chimpanzees and about 40 of them have been habituated by researchers for visitor purposes, it is the cheapest area to see chimpanzee in Uganda on a guided nature walk into the forest, you will be exposed to the parks 414 tree species, 6 different kinds of primates like olive baboons, black and white colobus monkey, blue monkey, red tailed monkey, among others, a combination of these factors really make the forest stand out with excellent angelic features that should not be missed out on a particular visit. There is a night tracking of nocturnal primates that takes place in the forest area, tracking bush babies, and pottos.
The forest has got four rewarding different trails, including the valley trail giving spectacular views of the green forest area, the waterfall trail going through the chimpanzee forest route and hilly beautiful areas of the Kalinzu, the river trail exposes most of the primates of the conservation area coming along the river Kajojo, the palm trail takes you through the beauty of the forest exposing several plant species.
The Semuliki valley wildlife game reserve, has a popular density of wildlife, primates like chimpanzee are present and can be seen on guided nature walks despite them being very rare to spot in the conservation area. There are more primates to be seen on a primate walk like the grey checked Mangabey, black and white colobus monkey, red colobus monkey, vervet monkeys, Mona dents monkeys, besides the primates, it is a safe place to see buffaloes, and elephants.the semiliki game reserve was gazette in 1926 one of those first places to be protected in Uganda, it is located near the western boarder of the democratic republic of Congo and Uganda, the sanctuary has a lot of wildlife species, it is located in Kabarole district along the foot hills of Rwenzori mountain.
Chimpanzee tracking is one beautiful activity to do, while in Uganda, they behave more of humans, socialize so much upon a particular visit, these troops can easily join one another and behave like they known each other in a long time Alphas fight for group belonging and leadership reaching the chimps can be as easy as 1 hour but can also take more hours than expected.
It should be noted that in order to track chimpanzee in Uganda, one has to be above 15 years of age, you are expected to see the chimps at an 8-10-meter distance, in case you have flu or cold you might not be allowed to meet the chimpanzee because they catch human diseases too, eating near the chimp is discouraged.and it is advisable to wear long sleeved shirts and trousers, boots, insect repellant, water proof covers for phones and cameras and many other items of personal nature.
Uganda is unique with a biodiverse economy that presents an opportunity to combine other wildlife safaris and activities like gorilla tracking, boat cruise, game drives, birding among others with chimpanzee tracking. Chimpanzee tracking is one of the most popular activities. All permits are bought at the Uganda wildlife authority. Chimpanzee tracking requires some physical fitness for it involves hikes, it might be very tiring but very rewarding after meeting these relatives of ours and enjoying them, they really can entertain. The chimpanzee lives in lower altitudes compared to the mountain gorilla implying that they are easy to find within the jungle. Treks follow the forest trails and expect to find much more grown vegetation in the forest if you book a safari during the wet season. Trips to the conservation areas are tailor made depending on what you want to be inclusive of the package, there is a chance to meet other animal species like lions, elephants, buffaloes, elands, oribi, waterbucks, warthogs, giant forest hogs, hippos, rhino, bushbucks and an incredible bird list on one safari.
The best time to see the chimpanzee is during the dry seasons from June-September, and December – January because of the easiness in accessibility of the national parks and trails, chimpanzee is easy to spot in the forest area, enjoying the best feeding times of the forest however tracking takes place all throughout the year, Uganda receives an equatorial type of climates and these seasons are separated into two, the peak season for travelers is during the months of June and September. The chimpanzee forests are flat and at a lower altitude compared to those of mountain gorilla's mornings of the conservation areas can mean to be very cold.
The different destinations of chimpanzee can be accessed by from form the main entry point of Entebbe international airport and the distance varies, or charter flights can be organized form Entebbe or Kampala Kajansi. There is available accommodation ranging from luxury to the best budget for example Mweya safari lodge in queen Elizabeth national park, Kibale forest camp in Kibale forest national park, offering visitors a place to stay and food while on safari. Most of the parks are under the management of the Uganda wildlife authority.